JIII and JIPII signed the memorandum with China Association of Invention (CAI) and Korea Invention Promotion Association (KIPA)
Mr. Huarong Yu: Executive Vice President of CAI, Dr. Joon-seok Lee: President of KIPA and Mr. Takao Ogiya: Executive Counselor of JIII visited Fushan, China to hold tri-party meeting and MOU signing ceremony for future Coordination and Cooperation in November 22nd, 2017.
Through this meeting, they could find that those three organizations are having very common responsibility and also doing common activities in their own countries. For example, Commendations for excellent invention from private enterprises, Development of Youth Creativity, Dissemination and Awareness of Intellectual Property systems, and so on.
With an active exchange of views, MOU concluded based on those common businesses and activities. In addition that, KIPA suggested "Information Exchange in the field of Commercialization of Invention" and JIII & JIPII suggested "Sharing tri-party cooperation result to the public", and all organizations also approved with those points.
After the signing of MOU, tri-party meeting was closed in a very friendly atmosphere, and three organizations agreed on an enhancement of cooperation system and also consented to keep deepening the warm relationship.
JIII & JIPII already re-signed MOU with KIPA in March 2017 and could sign with CAI in this time. We expect more strong and active cooperation with those three organizations in future.
In the afternoon on the same day, Mr. Ogiya visited Sun Yat-sen University and exchanged views on the latest Amendment of Chinese IP Law with Professor Li Yang from School of Law, Sun Yat-sen University.
Delegation of tri-party visited WIIF (World Invention and Innovation Forum) opening ceremony and inspected its Exhibition booths on 23rd morning.

Signing on Memorandum

Left: Dr. Lee, KIPA / Middle: Mr. Yu, CAI / Right: Mr. Ogiya, JIII and JIPII ;

Sun Yat-sen University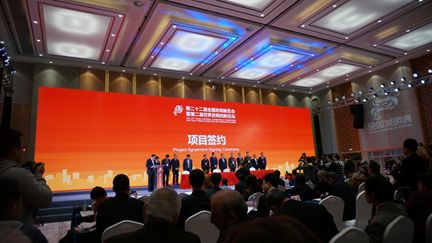 WIIF Opening Ceremony

Exhibition Booths of WIIF
Home >
JIII and JIPII signed the memorandum with China Association of Invention (CAI) and Korea Invention Promotion Association (KIPA)